OUR CLAIM
SPÜLBOY® can do more
Hygienically clean glasses with manual glass washers from SPÜLBOY®
With our manual glass cleaning we offer the ideal solution for perfectly hygienic, clean glasses. Inexpensive, fast and local – always for the benefit of your customers. Below we will inform you why washing and cleaning with manual glass washers is unbeatable.
100% Hygiene
In connection with the coronavirus, questions about the legal basis and hygienic effect of glass washers have increasingly arisen.
We do not assume that the legal situation regarding the cleaning of glasses, both in gastronomy and for events / organizers, will change due to the pandemic. With respect to the development of DIN 6653-3 for manual glasswashers, it has been intensively and extensively proven by various authorities, that the cleaning performance is at least as effective as with commercial dishwashers when handled properly. The right device, proper cleaning agents, correct rinsing of the glasses and regular cleaning of the device itself are the essence.
Cold rinse – but safe!
Virus-free through corona times
In the current situation, it is particularly important to us to be able to tell you with certainty that the SPÜLBOY® hygiene principle – manually washing glasses with cold water – is verifiably legally compliant. Always provided that our original devices and original cleaning agents are used properly. We have summarized the details for you in our Corona Info.
Independent institutes such as the Fraunhofer Institute prove that viruses and bacteria have no chance when using original SPÜLBOY® glass washers. You can find detailed information in our information area.
Quick & easy
Wash safely and hygienically in 4 steps:
Use original SPÜLBOY® glass washing tablets in the brush pot.

Move the glass completely over the brush at least 3-5 times with rapid up and down movements. Don't turn!

Allow to drain over the pre-wash pot and rinse inside and outside for at least 2-3 seconds in the final rinse.

Hygienic glass cleaning is guaranteed if the brushes and device are cleaned daily.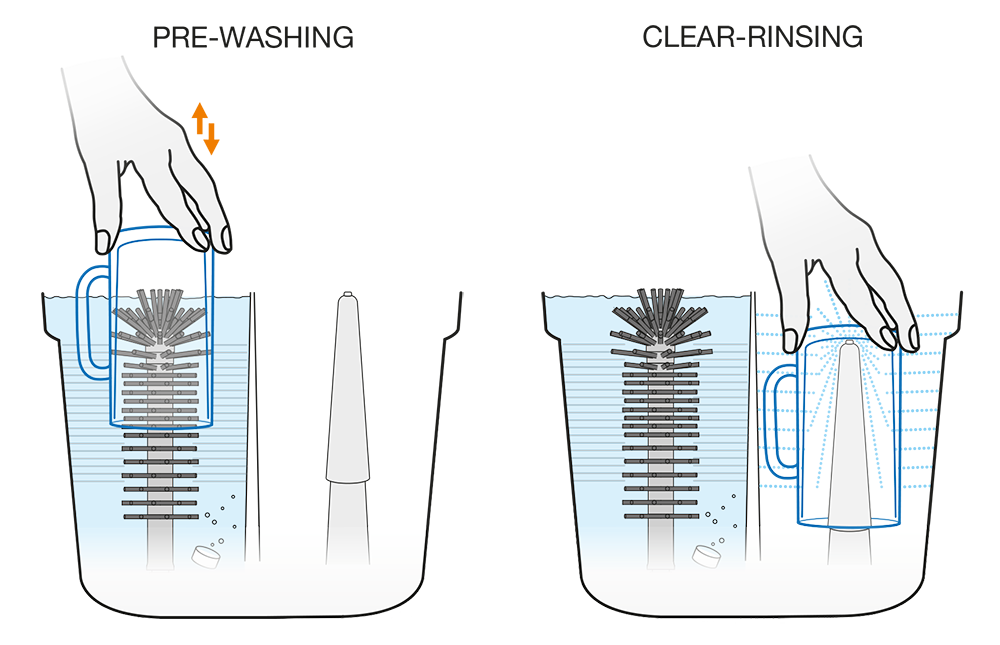 100% Original
For perfect washing results, we strongly recommend the use of original SPÜLBOY® washing tablets and brush cleaners.
We guarantee 100% bacteria-free and 99.9% virus-free washing results. The washing tablet works for 6-8 hours, slowly dissolves at the bottom of the brush pot and is therefore continuously effective. It softens the water, removes grease, dirt and lipstick residues from the glass and is biodegradable. The constant delivery of the cleaning concentrate is a clear advantage. Liquid cleaners would be prematurely washed away by the water circulation and become ineffective.
The brush cleaner is used for daily cleaning of the device and for brush care. After exposure (overnight), beer gruel and other residues can be gently and easily rinsed out of the brushes. You have a clean device available every day with little effort. The brush cleaner cares for the bristles at the same time and thereby extends their durability.
Double safe
DIN certification for quality assurance
We are not only the single manufacturer worldwide for manual glasswashers in accordance with DIN 6653-3, but have also had our in-house quality management system certified in accordance with DIN EN ISO 9001:2015.
This internationally recognized certification is specified for "design, manufacture and sale of plastic injection molding tools and technical plastic parts as well as development and assembly and complex systems such as glass washers and inhalers" and is applied to the entire company.
It is used to ensure consistent quality in the industrial production of plastic products, i.e. to ensure constant process reliability for series production. The continuous further development of our certification also requires our company to pay more attention to (product) development and its processes, to weigh up the associated risks, to consider and evaluate general business risks in order to ensure the continued existence of the company for suppliers, employees and customers.
TYPICAL SPÜLBOY®
Unique glass washing culture with sustainability
In a nutshell:
Hygenic design! Neptun T2000, Twin-Go and NU® models were developed with a closed base, which effectively prevents the build-up of dirt and germs. This makes it easy to keep the devices hygienically clean. All other competitor devices have to be laboriously unscrewed for proper cleaning.

Automatic fresh water circulation! All SPÜLBOY® models work highly efficient compared to the competitor devices. With each rinse process, fresh water is automatically refilled into the pre-rinsing pot and guarantees a constant water quantity and quality.


Perfectly tapped! Our patented 2-stage head valve is not only used to rinse the glasses clear, but also enables the cooling and humidification of already rinsed beer glasses – your beer deserves it!