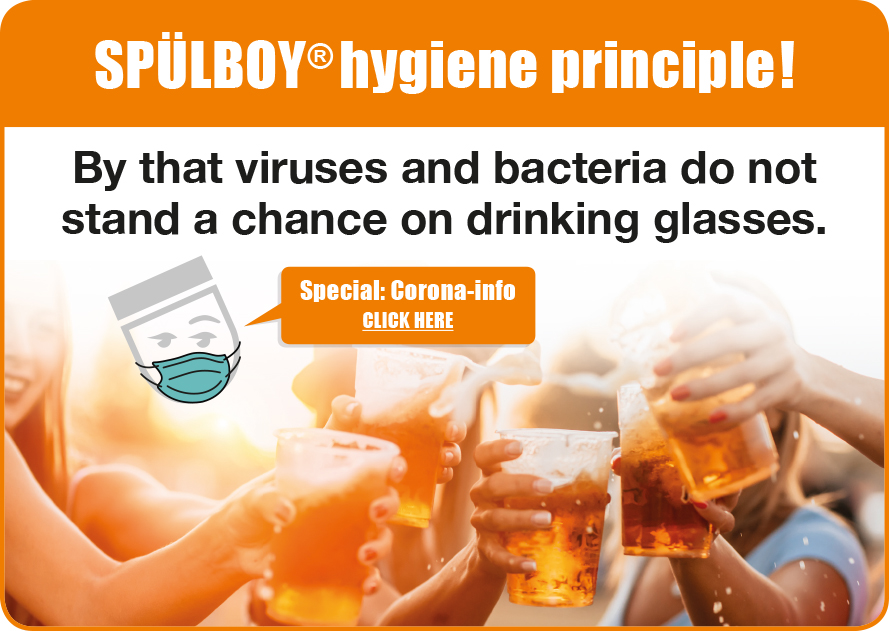 In less than 5 seconds to the crystal clear and beer foam friendly glass!
Spülboy® glasswashers have decisive advantages over 3-part brushes and electric dishwashers:
• Spülboy® devices all work without electricity, are extremely water-saving and require minimal use of chemicals; this makes them an ideal resource and environmentally friendly cleaning system.
• Mechanical brush cleaning using high-quality polyamide brushes effortlessly removes even stubborn lipstick and grease residues completely and comprehensively.
• Rinse glasses quickly and easily, your glasses are perfectly ready for use again in a few seconds; if necessary, only the refreshing, clear internal flush is possible!
• Our devices are operated with cold water, so no cooling down of the glasses is necessary, ideal for a perfect beer tap and 100% freshness enjoyment..
• In connection with our cleaners we guarantee (!) 100% bacteria and 99.9% virus-free washing results as well as unique DIN certified devices.

Hygienically clean glasses!
In order to achieve a perfect washing result, we strongly recommend the use of our Spülboy® washing tablet. This is the only way to guarantee the excellent and unique 100% bacteria and 99.9% virus-free washing results. The washing tablet works for 6-8 hours, slowly dissolves at the bottom of the brush pot and is therefore effective for a long time. It softens the water, removes grease, dirt and lipstick residues from the glass and is also biodegradable.
The following 4 steps are essential for correct and hygienic rinsing:
1. Use the original Spülboy® glass washing tablets in the brush pot regularly.
2. Clean the glass by vigorous and extensive 3-5 times up and down movements in the brush pot along the bristles.
3. Drain over the pre-rinse pot and then rinse the inside and outside cold and clear for about 2-3 seconds in the rinse cycle.
4. Hygienic glass cleaning is guaranteed if you pay attention to cleanliness when rinsing and thoroughly clean brushes and glass washer at the start of work.

Individuality is standard for Schäfer Produkte GmbH!
Our products and solutions are therefore as versatile as our customers. Many years of diverse experience in the field of plastics made it possible for us to coordinate and optimize the production process down to the smallest detail. We have had our in-house quality management system certified in accordance with DIN EN ISO 9001: 2015.
Our SPÜLBOYS® are therefore uniquely leading in the industry, certified according to DIN 6653-3. This standard guarantees that our manual glass washers meet the highest hygienic requirements. Only SPÜLBOY® can do that at the moment! Made in Germany. Made by Schäfer Produkte GmbH. See for yourself!